Biocom CRO Initiative
Responding to the extraordinary growth of outsourcing in the life science industries and the expanding number of contract research organizations (CROs) in California, Biocom launched a CRO initiative that fosters the creation of an outsourcing community while identifying ways to connect companies to this expanding network.  Here is what we're doing for our CRO members:
CRO Directory
CRO Committee
This committee was formed to build a unique support network between industry companies and CROs. The committee is comprised of representatives that have expertise in discovery, development, manufacturing, clinical research and/or marketing of therapeutic, device and diagnostic products. Committee members help to identify ways that industry members can work with CROs to strategize about their specific needs.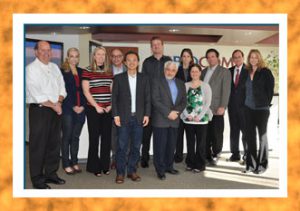 CRO Committee Members Listing
CRO Committee Members
Demitre Andrikos

3DT Holdings

Jayme Tortorici

ABL

Vatsala Naageshwaran

Absorption Systems

Ed Foster

Advantar Laboratories

Ali Sadighian

Agility Clinical

Fahim Naeem

Alphora Research

Kevin Lustig

Assay Depot

Monica Alfaro Welling

Atheln

Linda Gieschen

Battelle

Brian Price

Battelle

David Lyon

Bend Research

Jaime Padros

BioAuxilium Research

Larry Blocher

Bio Options

Francesca Incardona

BTS Research

Michelle Yankauckas

Cardinal Health Regulatory Sciences

Randy Lane

Cato Research

Christi Norton

Charles River Laboratories

Chris Noakes

Champions Oncology

Ronald Demuth

ChemDiv

Giff Marzoni

Davos Chemicals

Daniel Levy

DEL Biopharma

Rick Strobridge

Entra Health Systems

Taylor Crouch

eStudy Site

Richard Lin

Explora BioLabs

Greg Weilersbacher

Formex

Stan Fleming

Forward Ventures

Jamshid Arjomand

Genea Biocells

Tiffany Granacki

Genewiz

Michael Dale

Genway Biotech

Philip Gordts

GlycoAnalytics

Val Dittrich

Grand River Aseptic Manufacturing, Inc.

Blake Engelbert

Halozyme

Chunxia Wang

HD Biosciences

Paul Steinberg

InClinica

Claudia Shojai

INOVA Diagnostics

Randa Wahid

Integrium Clinical Research

Tanya Kaileh

inVentiv Health Clinical

Louis Scotti

IriSys

Erica Smith

Lovelace Biomedical

Taylor Moyer

Managed Lab Services

Mark Hurtt

Mark Hurtt Consulting

Fred Zinos

Medicoconomics

Matt Wagener

MedSource

Guy Iannuzzi

Mentus

Richard Egolf

MicroConstants

Steve Reed

MI Bioresearch

Steve Reed

Molecular Imaging

Bill Jefferson

MPI Research

Yusuke Yamamoto

Nagano Science

Tim Lehman

Nexus Biosciences

Kerri Leslie

Nexus Biosciences

Michael Moore

Oncolytics

Susan Francia

Ora

Steve Li

Patheon

Kathy Kane

PharmaLegacy

Yinghong Gao

Pharmaron

Andy Heiniluoma

PharmaTest

Tim LaCroix

PharPoint Research

Abby Devine

Profil Insitute

Terence Turner

PSI

Sue Im

QPS Holdings

Michael Kruidenier

Quay Pharmaceuticals Limited

Mingjie Xie

Rapid Novor

Claire Weston

Reveal Biosciences

KC Morris

Rho

Kevin de la Torre

SciQuus

John Gutheil

SciQuus

Bob Couzens

Sherpa Clinical Packaging

Rebecca Romary

Sherpa Clinical Packaging

Marisa Reinoso

Sherpa Clinical Packaging

Heather Rold

Signature Analytics

Mike Van Horn

SureClinical

Trisha Vonder Reith

Synteract

Jon Nelson

Therapeutics, Inc.

Bill Yang

Thermo Fisher

Meng Gao

Tioga Research

John Newsam

Tioga Research

Tim Mayer

Transnetyx

Mike Nicoletti

Trials.ai

Gene Yeo

UCSD, Institute for Molecular Medicine

Biswa Pronab Choudhury

UCSD, Biomolecular Research Facility 2

Hugh McManus

Uquifa

Aruna Somasiri

Wax-it Histology Services

Steven Henrikson

Western University of Health Sciences

Mickey Dugich-Djordjevic

Western University of Health Sciences
Educational Short Courses
These courses provide an overview of all aspects of drug development and are targeted towards educating industry members on how CROs can be your partner.
Networking Receptions
These mixers are discipline specific and are targeted for industry representatives to meet local CROs that can specifically assist with their company's needs.
Get Involved
To join our CRO committee or to learn more about our initiative, please contact Kira Jenkins email or phone. Or join us on LinkedIn.
About Biocom
 Biocom is the largest, most experienced leader and advocate for California's life science sector. We work on behalf of more than 900 members to drive public policy, build an enviable network of industry leaders, create access to capital, introduce cutting-edge STEM education programs, and create robust value-driven purchasing programs.
Founded in 1995 in San Diego, Biocom provides the strongest public voice to research institutions and companies that fuel the local and state-wide economy.  Our goal is simple:  to help our members produce novel solutions that improve the human condition. Biocom's skilled team of more than 43 staff works alongside industry, government, investors, academia and other stakeholders to accomplish key goals including talent development, cross-industry collaboration and a vibrant financing climate. Through its wide range of initiatives and 75 events per year, Biocom cultivates a climate that fosters growth and productivity in all areas of the life science sector, accelerating success on a global level.
Biocom's state-wide footprint includes staff in San Diego (headquarters), Los Angeles, San Francisco, Washington, D.C. and Tokyo.  We have a continuous presence in Sacramento via staff, a 501c3 foundation, and contract lobbyist.  Membership benefits apply to biotechnology, pharmaceutical, medical device, genomics and diagnostics companies of all sizes, as well as to research universities and institutes, clinical research organizations, investors and service providers.  Connect with us on LinkedIn, Facebook, and Twitter (@BIOCOMCA).