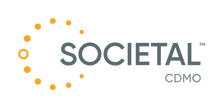 A CDMO with Oral Solid Dose and Sterile Injectable Expertise: Our expertise in solving complex development and manufacturing problems enables pharmaceutical product development and clinical and commercial manufacturing of tablets, capsules, liquids, and injectables, all with end-to-end regulatory support.
Modified-Release Technology: Developing and manufacturing modified-release dosage forms since the 1980s, Societal is one of the few CDMOs with a long and proven track record of taking specialized modified release products from development to commercialization.
Complex Formulations: We create solutions tailored to the unique physical and chemical characteristics of your drug compound including use of novel delivery systems.
Tech Transfers and Risk Mitigation: As a leading CDMO with extensive regulatory and commercialization experience, you can rely on Societal to conduct a seamless tech transfer for your late-stage product, as well as be an alternative manufacturing site for supply chain risk mitigation.
Reformulation Capabilities: Rely on Societal to support your drug repurposing and reformulation strategies for expanded revenue opportunities and extended patent protection.
DEA Controlled Substance Expertise: We provide secure, dedicated vault space, experienced personnel, and an extensive track record of regulatory compliance to meet the specialized requirements for controlled substance development and manufacturing.